February 9, 2021
Posted by:

CCM

Category:

Uncategorized
What is a maintenance emergency? Is the difference between a maintenance request and a maintenance emergency clear to your HOA Board Members, maintenance staff, owners, and residents?
Clear communication about what a maintenance emergency is – and what it isn't – will help your organization prioritize maintenance issues and reduce unnecessary all-hours calls and expenses.
Emergency Repairs
Maintenance emergencies occur when a critical system breaks down and could potentially be dangerous or cause damage, rendering the property unsafe or uninhabitable.
Maintenance emergencies may include major electrical problems, burst pipes, gas leaks, failure of all toilets in a unit, or sewage backups.
Obviously, any life-threatening concerns such as carbon monoxide, gas leaks or fires should be directed to call 911.
Maintenance Requests
Maintenance requests are work orders for non-emergency repairs in a specific home or unit. In most HOA or condo associations, this type of maintenance work must be coordinated by the home or unit owner.
However, some condo associations may handle specific types of repairs. Whether the homeowner or the condo association is responsible for coordinating repairs should be clearly outlined and communicated to all home or unit owners.
For example, if the air conditioning system in each unit is part of the building HVAC system, then the condo association will likely have responsibility for these repairs in order to ensure the entire system is in good shape.
Communications to Owners, Residents, Renters
In your communications to home or unit owners, clearly explain what constitutes a maintenance emergency, what constitutes a non-emergency maintenance repair request, whether the owner or the HOA is responsible for the repair, and the contact information for maintenance emergencies and non-emergencies repair requests. In addition, be sure to communicate the timing that homeowners can expect staff to fix the issue (ie: within 24 hours.)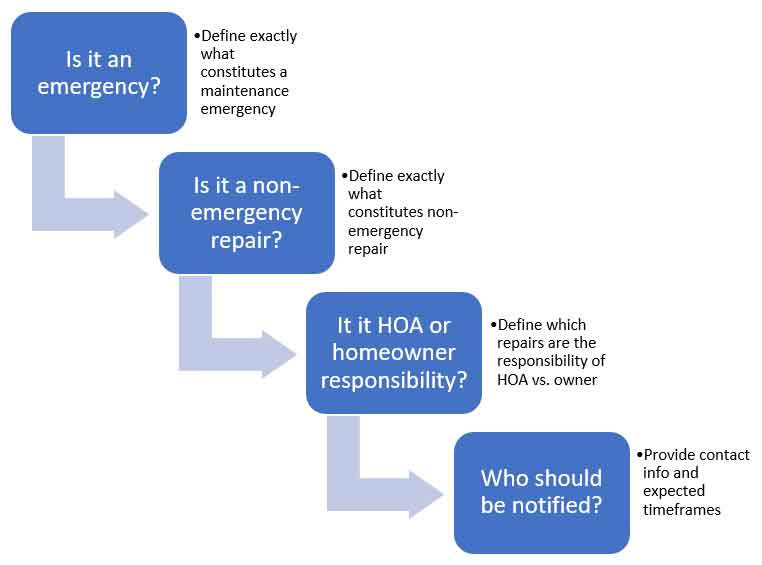 Putting together a maintenance plan and communicating with all residents will set clear expectations, reduce homeowner and resident frustrations, and improve HOA or condo association – resident relationships.
Consolidated Community Management (CCM) is a full-service property management company specializing in condominium and homeowner association management in Broward and southern Palm Beach Counties. We are committed to working together with community Boards of Directors to develop management plans tailored to the unique requirements of each community and their residents.
CCM provides a quality of service that is unique to our industry and consistently delivers a distinct competitive advantage. Our concentrated, extensive local presence and knowledge of community associations results in lasting partnerships and superior service. We have built our industry reputation on employing the best in the business and assigning only a limited number of properties to each Property Manager Team.
To learn more about CCM and our services, contact us at (954) 718-9903 for Broward, (561) 465-7639 for Boynton Beach, or visit us at ccmfla.com.